Bill and Molly Riome Masonic Memorial Scholarship
NAME: The scholarship shall be named the Bill and Molly Masonic Memorial Scholarship
AMOUNT: The amount of the scholarship shall be $ 1000.00 dollars presented to one student each year.
ELIGIBILITY: One student selected annually from Wainwright High School.
QUALIFICATIONS: The student must be registered in a post-secondary full session program at a University, a Provincial Institute of Technology, or a recognized Community College within the Dominion of Canada.
CRITERIA FOR SELECTION OF CANDIDATE: The scholarship will be based on financial need in addition to the necessary academic qualifications required by the post secondary institution.
SELECTION COMMITTEE: The selection committee will consist of:
1. Principal of Wainwright High School or designate;
2. Member of Buffalo Park Lodge No. 44; and
3. One additional Wainwright High School representative mutually agreed upon by the first two members listed.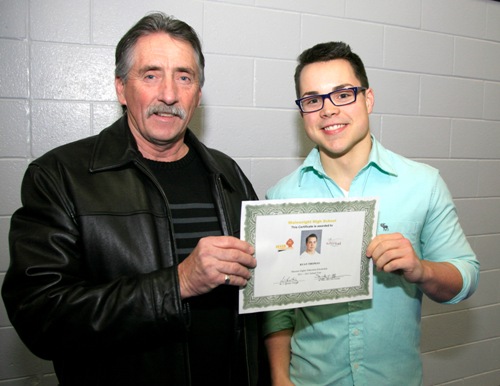 W.Bro. M.E. Rodgers ~ Worshipful Master of Buffalo Park Lodge
Presenting Ryan Thomas a Grade 12 student at Wainwright High School
with the Bill and Molly Riome scholarship.
SCHOLARSHIP PRESENTATION:
The Scholarship must be presented at a public ceremony by a representative of Buffalo Park Lodge No. 44.
DURATION OF SCHOLARSHIP:
The Scholarship as outlined in this format and plan will be awarded annually for a period of ten years. Every five years a committee of Buffalo Park Lodge will review the future of the Scholarship.